Take advantage of blockchain technology
Ensure that your voting processes are as secure as possible.
Elections are a key cornerstone in our current open societies: for Labor Union Elections, political Party Elections, University Elections, Shareholder Meetings, or Business Referendums & Consultations. ‍ At ONLZ, we wanted to allow you to create an election for your school or organization in seconds. Your voters can vote from any location on any device, be sure their ballot is cast, and stay 100% anonymous. Even ONLZ is not aware of who users voted for. That's the beauty of the cryptographic voting system we implemented.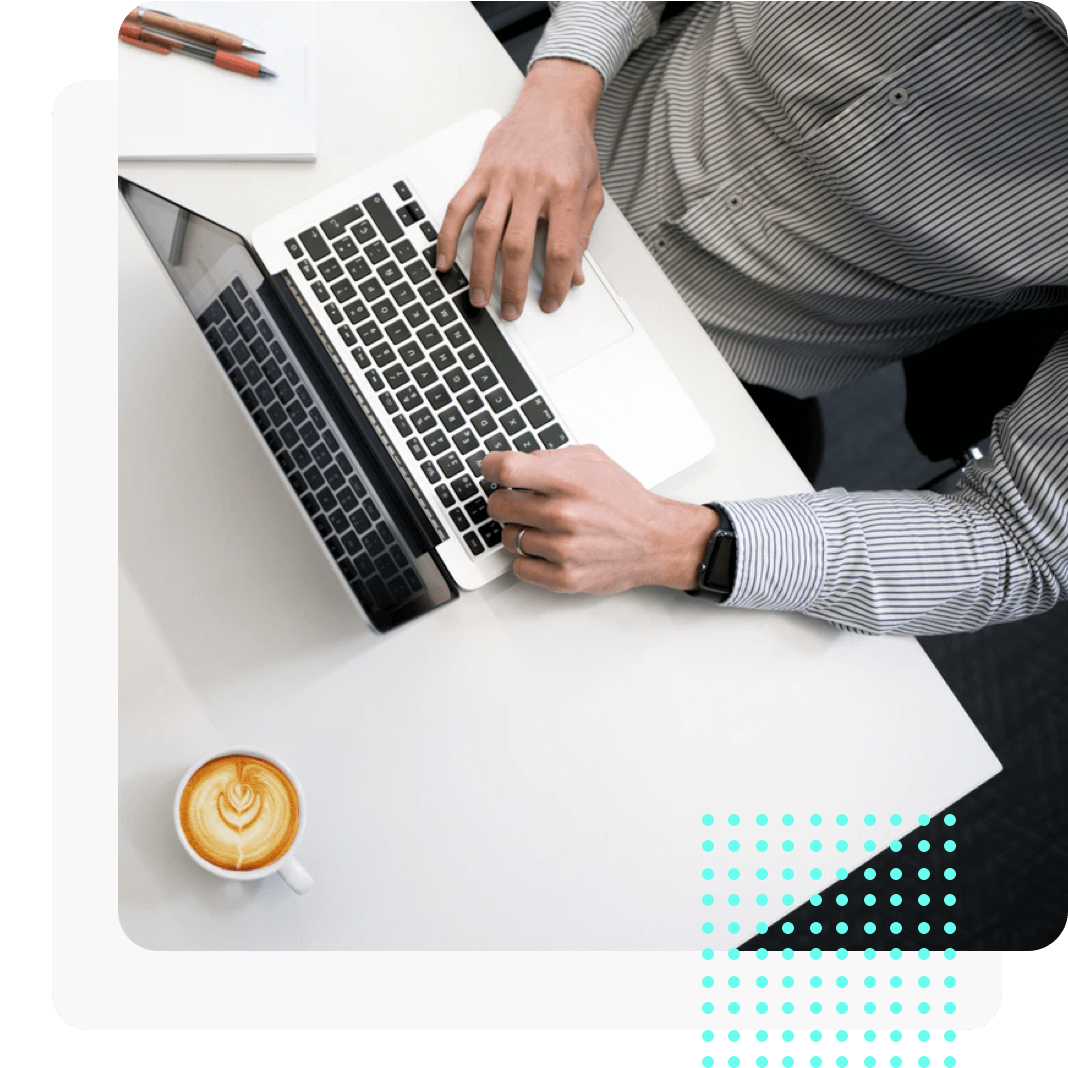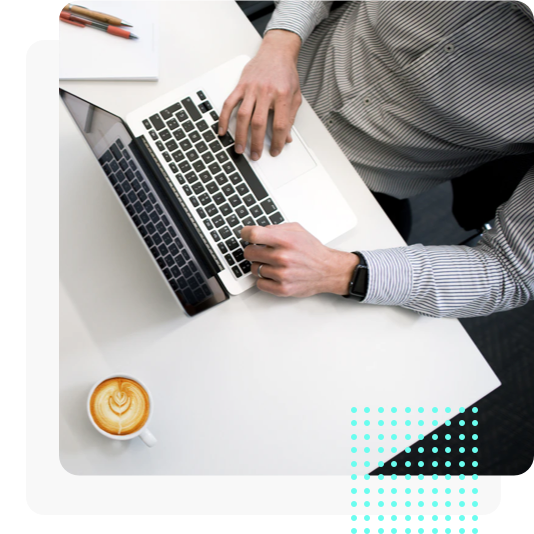 Our Vision
Don't trust the election organizer. Verify.
Today, elections are a too sensible topic to leave it up to someone else. Even for private elections like Labour Union Elections, University Elections or Shareholder Meetings.
Use ONLZ, and bring transparency and fairness to your voting process.
All the features that make organising elections a stressless experience.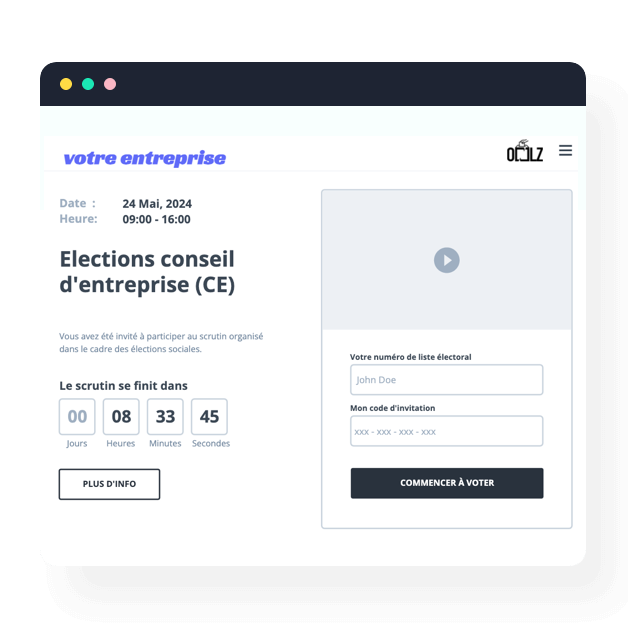 Ease of use for poll participants
ONLZ application does not require your employees to follow any training. The voting user interface is simple and easy to use, understood by all types of users. It is also responsive to ensure every type of device (laptop, desktop, mobile, tablet...) can be used.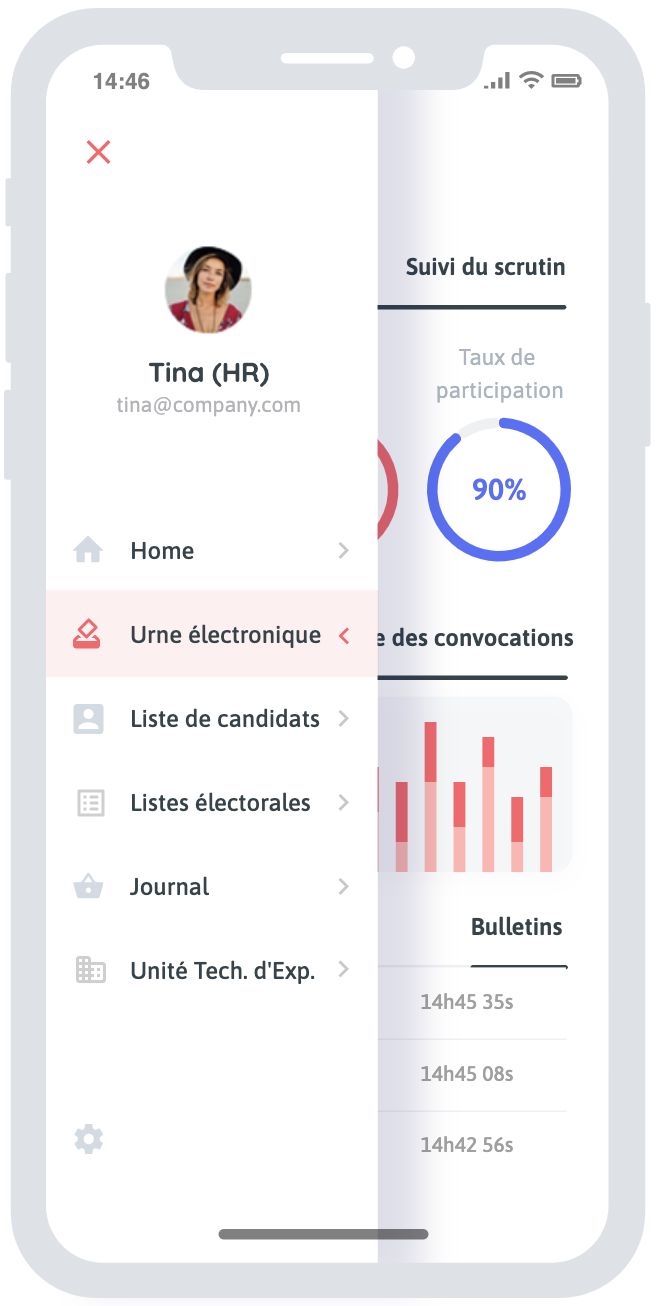 Real-time follow-up
Polling station members (president, secretary, assessors, witnesses) can follow the ballot, check the candidate's lists, electoral lists, and ensure the ballot and polling station are running smoothly. Witnesses also have access to a real-time dashboard showing the election turnout (participation rate)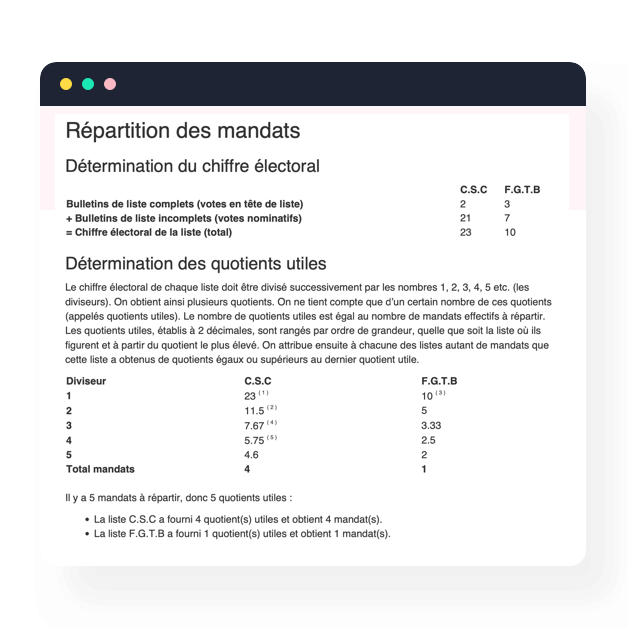 Efficiency and mistakes prevention
Voting rules are enforced, and the results can be generated out of the box with detailed explanations about how the seats have been assigned and who is elected.
We support HR departments and organisations that respect their employees and staff representatives.
Support democracy within your organisation by using a flexible tool with the highest security to run your voting process.
Your employeees can vote fom their desk or from home, while the polling station committe have the tool to follow online the conduct of the pool.
During the whole process, our team is available to provide a continued customer service to your HR professionals, before, during and after the votes. Service is a critical component in our offer; even if every election is different, we never leave our customer alone.
Our Online Voting System
Benefit from one of the best e-voting systems available on the market.
SaaS or in premise
You can use our fully-secured online platform (Software as a Service) to run your election process. In-house or private cloud hosting approaches are also possible.
Anonymous
The voter choice is encrypted in his local device, before being sent anonymously to the voting platform. There is no way to retrieve who voted for who, as the link between the vote and the voters is never stored.
Immutable
Votes are stored using a blockchain principle, making it obvious if any external party, including ONLZ, modifies a ballot, or erase voting data.
Auditable
Voters or Trade Unions can check themself, at the end of the election, that all ballots have been correctly taken into account, without knowing the vote itself. It brings back trust to your elections.
Coercion resistant
Coercion resistance may be regarded as an extension of the basic property of privacy. Privacy in an election system is defined in terms of an adversary that cannot interact with voters during the election process.
Innovative
We reengineered completely the election process, moving the eligibility phase after the casting of the vote to ensure full privacy and transparency.
Interested in working with our evoting solution?
Contact us now, and we are ready to support you
Contact Now